FIND A M·A·C STORE
Complimentary Services
VISIT YOUR LOCAL STORE TO RECEIVE A COMPLIMENTARY SERVICE THAT IS BESPOKE TO YOU.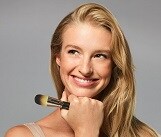 EXPRESS: SKIN TAILORING
(COMPLIMENTARY)
DISCOVER YOUR PERFECT SKIN FIT. WORK ONE-TO-ONE WITH AN ARTIST TO FIND THE IDEAL SHADE MATCH, COVERAGE AND FINISH THAT IS TAILORED TO YOUR SKIN.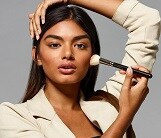 EXPRESS: CONTOUR & HIGHLIGHT
(COMPLIMENTARY)
FROM A RADIANT GLOW TO DEFINED AND SCULPTED CHEEKS LET US GUIDE YOU THROUGH THE PERFECT PRODUCT COMBINATION, TOOLS AND TIPS TO CONTOUR, SHAPE AND HIGHLIGHT YOUR SKIN.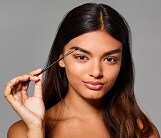 EXPRESS: BROWS TO GO
(COMPLIMENTARY)
STRUCTURED TO SOFT, SUBTLE TO BOLD. PRECISION TOOLS AND COLOUR TRUE PRODUCTS COMBINED TO CREATE A BROW SHAPE THAT IS PERSONALISED TO YOU.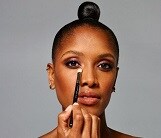 EXPRESS: ALL ABOUT EYES
(COMPLIMENTARY)
BLOWN OUT, SMOLDERY, STATEMENT OR SUBTLE! IT IS ALL ABOUT THE EYES! DISCOVER YOUR PERFECT MIX OF PRODUCTS, COLOURS AND TEXTURES TO HELP YOU ACHIEVE A LOOK THAT IS ALL YOURS.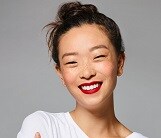 EXPRESS: GET LIPPY
(COMPLIMENTARY)
MATTE ME UP, GLOSS ME OVER, GET YOUR PERFECT LIP. FROM SIGNATURE NUDES TO STANDOUT REDS OUR ARTISTS WILL SHOW YOU HOW TO GET THE BEST-LOOKING LIPS IN TOWN.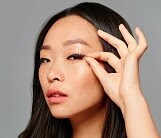 EXPRESS: LASHED UP
(COMPLIMENTARY)
THE ULTIMATE STATEMENT FOR THE EYES. OUR ARTISTS WILL SHOW YOU HOW TO CUSTOM FIT FALSE LASHES. SEAL THE DEAL WITH A SLICK FLICK OF LINER. COMPLIMENTARY WHEN YOU PURCHASE ANY SET OF LASHES IN STORE**
PAID FOR SERVICES*
BOOK UNINTERRUPTED TIME WITH YOUR OWN M·A·C ARTIST. FULLY REDEEMABLE ON PRODUCT.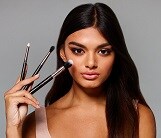 MAKEUP YOUR WAY IN 30, 45 OR 60 MINUTES (RRP: £30, £45, £60)
CHOOSE YOUR FEATURES FROM THE EXPRESS MENU AND GET YOUR MAKEUP PERSONALISED TO YOUR NEEDS, YOUR TIME AND YOUR STYLE. WHETHER IT IS FOR A NIGHT OUT, EVENT OR WELL DESERVED 'ME TIME.' FROM NATURAL TO GLAM – THE CHOICE IS YOURS.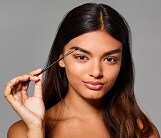 KNOCK-OUT BROWS, 20 MINUTES
(RRP £20)
THREAD AND TWEEZE AWAY STRAY HAIRS TO CREATE KNOCK-OUT SHAPE, FINISHING WITH COLOUR COSMETICS TO DESIGN, TIDY AND SHAPE.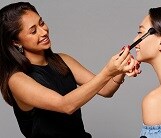 THE WORKS, 75 MINUTES
(RRP £75)
THE ULTIMATE MAKEUP EXPERIENCE, AN ARTIST WILL DELIVER THE FULL M·A·C TREATMENT, WITH ALL THE TOOLS, TIPS AND TECHNIQUES TO MASTER A COMPLETE BEAUTY LOOK. FROM SKIN TAILORING TO LASHES AND LINER AND EVERYTHING IN BETWEEN.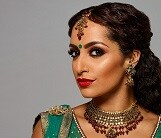 BRIDAL TROUSSEAU, 120 MINUTES
(RRP £120)
BESPOKE BEAUTY LOOKS FOR YOUR WEDDING DAY AND BEYOND. THIS SERVICE INCLUDES A BEAUTIFUL GOLD WEDDING TROUSSEAU BOX TO HOUSE YOUR WEDDING MAKEUP WARDROBE.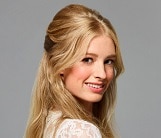 BRIDE TO BE, 90 MINUTES
(RRP £90)
FOR THAT SPECIAL DAY! TAILORED LOOK THAT LEAVES YOU CAMERA READY AND RADIANT, WHETHER YOU ARE GOING FOR FULL ON GLAM OR EFFORTLESSLY NATURAL. COLLABORATE WITH OUR ARTISTS TO FIND THE PERFECT BALANCE OF SOFT GLAMOUR AND FLAWLESS BEAUTY.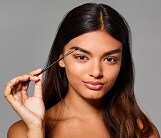 EXPRESS: TWEEZE ME, 15 MINUTES
(RRP £15)
TWEEZE AWAY STRAY HAIRS, FINISHING WITH COLOUR COSMETICS TO DESIGN, TIDY AND SHAPE.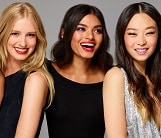 ALL TOGETHER, 90 MINUTES
(MINIMUM 3 PEOPLE, RRP £30 PER PERSON)
GET PARTY READY. FROM BIRTHDAY'S TO PROMS OR A BIG NIGHT OUT, THERE'S NO BETTER WAY TO GET READY TOGETHER WITH YOUR OWN M·A·C ARTIST ON HAND. MAXIMUM GUESTS MAY VARY PER STORE, PLEASE CONTACT YOUR CHOSEN LOCATION TO FIND OUT MORE.
---
NEED HELP?
TERMS AND CONDITIONS
REDEEMABLE MAKEUP SERVICES ARE SUBJECT TO ARTIST AVAILABILITY AT THE TIME OF BOOKING.
M.A.C PRODUCTS CAN ONLY BE REDEEMED AT THE TIME OF SERVICE AND AT THE STORE THE WHERE THE SERVICE WAS PROVIDED.
COMPLIMENTARY SERVICES ARE LIMITED TO ONE SERVICE PER PERSON PER DAY AND ARE SUBJECT TO ARTIST AVAILABILITY IN STORE.
* IN SELECT DOORS ONLY.



Stores
Open to the Public
Pro discount not available
Invalid Postcode
Missing City (US)
Missing City (International)
SELECT
Invalid Address
No Route Found
Unknown Error