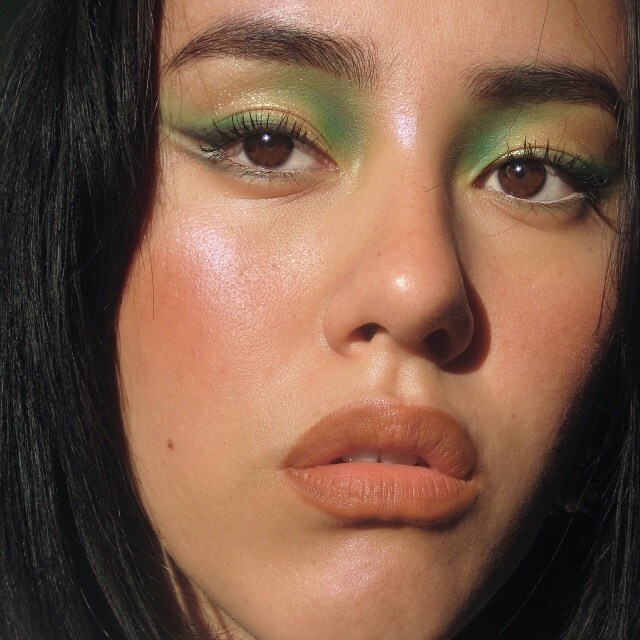 GARETH PUGH SS21: GET THE LOOK
'Gareth described this look as almost nymph-like and wanted it to look as if the model was 'being lit from above'. I wanted this makeup to look very ethereal but still bold. We first blocked out the brows to decrease the harshness of the overall shapes. I then created a soft blended green eyeshadow look, using multiple glittery shades that would catch the light. We softened the look further with a warm nude lip which was also applied to the cheeks.'

- Ana Takahashi, Lead Makeup Artist
CREATE THE LOOK
STEP 1: Ensure hands are freshly washed and apply Face and Body Foundation to give a dewy base to the skin, this look is all about that ethereal glow, so it's the perfect foundation for this finish. Then pinpoint conceal any areas where you want extra coverage, whilst keeping the base as lightweight as possible.

STEP 2: For the eyes, use Art Library Palette It's Designer, shade My Kid Could Make That and Gallerina in the inner crease and lash line and If it ain't Baroque in the centre of the lid to catch the light and add dimension.

STEP 3: Apply Extended Play Gigiblack Lash Mascara on top and bottom lashes.

STEP 4: Now for added glow, use Extra Dimension Skinfinish in Soft Frost on the high points of the face to give skin a soft extra-terrestrial finish.

STEP 5: Now, to add some warmth use Powder Kiss in Impulsive - applied to the cheeks to give a soft blushed effect.

STEP 6: Complete the look with more Powder Kiss Lipstick in Impulsive on the lips to tie in with the cheeks - Cork Lip Pencil to give a fuller line to the lip.